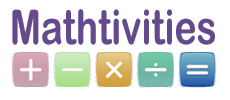 Math Facts Games:
"In" and "Out" Flash Cards
            Today's Snack: It's fun to eat snacks with a surprise inside! Try baking little lumps of refrigerator dough spread around a tiny smoked sausage, cut in half. Make a cookie sheet full of those treats, according to package directions for pigs in a blanket, reducing the time in the oven by a few minutes since the amount of dough per piece is smaller. Eat a few now with a glass of milk. Freeze the rest in a freezer-safe zip-lock bag. Drink a glass of milk, too.
--------------------
Supplies:
Math flash cards | Two small boxes, paper plates or containers
            Even if a student spends just 5 minutes a day working with math flash cards, it's a win. The idea is to INGRAIN in your BRAIN the math facts, so that the answers come to you instantly, automatically and accurately. A daily mini-practice with flash cards is a great way to create that state of math fact mastery that parents and teachers all want each kid to be in.
            Here's an idea that can really help:
            Set out two boxes, paper plates or other small containers in front of you. Then start going through a deck of flash cards that are pretty challenging.
            Whenever you get a problem correct - and right away, in just a second or two, place that flash card into one of the boxes. Think of it as your "Out" box - meaning, you have mastered that math fact and don't need to review it any more.
            But whenever a problem on a flash card stumps you for longer than two seconds, then you have to put it in the "In" box. That means you haven't mastered it yet. You need to review it until the answer comes to you instantly.
            Once you've gone through the deck once, pick up the cards you placed in the "In" box, and study them.
            Then go through them again. This time, can you put more of them into the "Out" box?
            Keep repeating the review process until the whole deck is in the "Out" box. It may take you several days or a week, but you'll be great at the "in's and out's" of math!