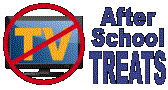 Preschool Math:
Cereal Sorting
Today's Snack: Enjoy a container of fruit-flavored yogurt, and sprinkle some cereal on top. Drink a glass of milk, and you've had a lot of calcium - an important mineral for your body's health. Plus, you can wash out and recycle your plastic yogurt container and save it. When you have 10 of them, you can do this sorting activity!
--------------------
Supplies:
10 clean, empty, recycled yogurt containers (or use recycled cans or small cups)
Short strips of masking tape | a marker
Cheerios or other cereal | a bowl or napkin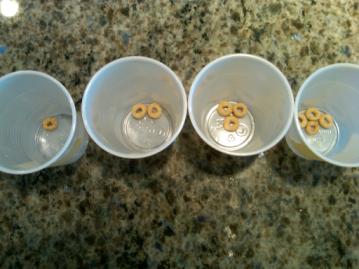 Here's a sorting activity:
1. Line up the 10 containers in a row.
2. Number them from 1 to 10, using pieces of masking tape and a marker.
3. Pour out about ¼ cup of Cheerios or other easily-grasped cereal into a bowl or onto a napkin.
4. Place 1 Cheerio into the cup marked "1," 2 Cheerios into the cup marked "2" and so on.
5. Have someone check your work.
6. When you're done, eat the Cheerios!!!