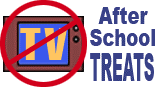 Problem-Solving:
The 23 Skiddoo Challenge
Today's Snack: 23 whole peanuts, and sip a glass of milk in 23 sips.
--------------------
Supplies:
Scratch paper and pencil
Using numerals, symbols, graphics, words, pictures, or whatever you want, see how many times you can express the meaning of the number "23."
Examples to get you going:
• (2 x 10) + 3
• The first odd number after 22
• The Earth's precise angle of tilt from the Sun in degrees.
How many more can you list? (Hint: a sports star's jersey number . . . number of yards you need to make when it's 3rd and 23 . . . 10 + 10 + 1 + 1 + 1 . . . something to do with chromosomes . . . see if you can get 23 of these!)
Don't hesitate to ask someone older for more ideas. They may know, for example, that 23 is a "prime number." Ask them what that means!
By the way, where does the expression "23 Skiddoo" come from?
No one's exactly sure, but they think it means something like "everybody run away," and dates back to pre-World War I American slang.