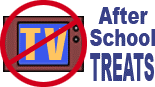 Measurement:
Let's Triple the Stuffing Recipe!
Today's Snack: At Thanksgiving time, or any time, a bowl of hot bread stuffing is a yummy treat. Enjoy it with or without some hot gravy on top. Drink some ice water so you won't feel so . . . stuffed.
--------------------
Supplies:
Scratch paper and pencil
Ingredients for stuffing recipe, below
Access to a stove and saucepan
            Quite often, when you cook, you need to use math. At Thanksgiving time, when there may be extra people at your table, a cook often needs to double or triple a recipe so that there will be enough to go around.
            This involves multiplication, including multiplying fractions. So it gives you good math practice . . . and makes a lot of good food to enjoy!
            Let's practice on this traditional Thanksgiving turkey stuffing recipe. When you're done, best of all, you get to eat the result as your daily after-school snack! You can save the rest in a dish in the refrigerator. Stuffing makes a good side dish for just about any meal, but especially at Thanksgiving time.
            At left is the ingredient. Triple it by multiplying the quantity times 3, and write it in the blank at right.
            At the bottom, you can find the answers, so you might want to check your work before you cook!
Triple Recipe of Bread Stuffing
3 tablespoons chopped onion                     _____
¼ cup butter or margarine                            _____
4 cups dry bread cubes                                _____
¼ teaspoon salt                                             _____
¼ teaspoon pepper                                      _____
½ teaspoon poultry seasoning                    _____
½ teaspoon ground sage                             _____
2 to 4 tablespoons water                              _____
            or chicken broth
            Chop onion with adult supervision. Cook onion in butter. Combine with bread and seasonings. Toss with enough liquid to moisten. The regular recipe makes 3 cups of stuffing, so if you triple it, it will make how many cups? Nine! That's enough for a 15-pound turkey.
Answers:
9 T. onion
¾ C. butter
12 C. cubes
¾ tsp. salt
¾ tsp. pepper
1½ tsp. poultry seasoning
1½ tsp. sage
6 to 12 T. water or broth