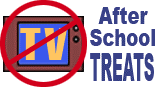 Math + Science:
Rainforest Math (For 6th Graders & Older)
Today's Snack: Make a "rainforest mix" of cereal or granola, raisins, whole almonds, sunflower seeds, minced fruit leather, M&M's and whatever else makes it easy to imagine yourself an explorer in the rainforest. If you have a canteen, by all means drink cold water out of it while eating your rainforest mix.
--------------------
Here are some challenging math problems that have to do with one of the world's environmental wonders - the rainforest. These problems are written at about the sixth-grade level. You will learn as much about science as you will about math with these interesting problems.
These are from Omaha's famous Henry Doorly Zoo, which has a rainforest under roof - which required a lot of math to design and build!
www.omahazoo.com/pages/education/familyfun/discoverysheets/RAIN_FOREST_MATH.pdf