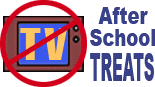 Math + Online Learning:
It's 'The Mother Lode' of Math
            Today's Snack: Yes, that's spelled right. A "lode" in mining is a rich supply of valuable metal in the middle of rock. It's kind of a like a big vein in the human body. When a miner "strikes the mother lode," it means big bucks! Well, today's featured website is like a "mother lode" of online math activities. So to symbolize that, take a spoonful of peanut butter and blob it into an individually-packaged serving of chocolate pudding. Stir just a little. Then eat. When you hit that peanut butter taste, what are you going to say? "I HIT THE MOTHER LODE!!!!"
--------------------
Supplies:
Internet access
Thanks to After School Treats reader Lauren Jackson of the Pacific Northwest for sharing this great math website. It has a broad range of online math activities covering most math subjects for most age groups. This would be a great one to bookmark:
http://www.guidetoonlineschools.com/library/math-resources