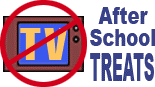 Math Facts Games:
Online Math Challenges
Today's Snack: Enjoy "Treetops Dip." Stir a little blob of mustard into about one-fourth cup of sour cream. With adult supervision and a sharp knife, cut four or five broccoli and four or five cauliflower tops off their respective heads. Then dip the green or white "treetops" into the dip. It's yummy with a tall glass of fruit juice on ice!
--------------------
Here are 80 math challenge questions that you can do online on the spot, or download and print out for later. Note that the answers are listed below each challenge - but try not to look 'til you've solved each one!
http://www.figurethis.org/challenges/challenge_index.htm