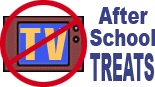 Math Facts Games:
Online Halloween Fun
Today's Snack: What's a tastier autumn treat than caramel apples? You can enjoy them any time, of course!
First, line a baking sheet with buttered waxed paper.
Next, in a saucepan, melt a 14-ounce package of caramels (unwrapped!), 1 cup of miniature marshmallows, and 1 tablespoon of water.
Cook over medium heat, stirring constantly, until all melted.
Cool slightly while you rinse and thoroughly dry 5 or 6 small apples.
Insert flat sticks in the stem ends.
Dip each apple in the caramel mixture, coating well.
Remove excess caramel by scraping apple bottoms across the rim of the saucepan.
Place on the prepared baking sheet. Refrigerate until firm.
--------------------
            Today's Treat: Here's an online activity full of Halloween-themed games.  They will give you boo-tiful practice in math facts until you're . . . SCARY-GOOD!
http://www.apples4theteacher.com/holidays/halloween/math-games/#