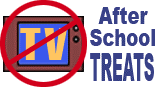 Math Facts Games:
Number Buzz Game
Today's Snack: Drink a beverage that will make your nose feel a buzz! Try 7-Up, Sprite or ginger ale. For such a bubbly drink, you should pair it with a very calm main snack. So peel and eat a nice, calm carrot.
--------------------
Supplies:
A group of students
Sit in a circle. This is a game in which you will be saying a lot of numbers from 0 to 100 aloud, but there will always be a particular kind of number that you CAN'T say. If you say it by mistake, you're out.
So when it's your turn, instead of saying the number that you're not supposed to say, you can say "BUZZ." That's your ticket to safety!
For example, let's say the group decides NOT to say any even numbers. Starting with one student and going around the circle, you would say: "One, BUZZ, three, BUZZ, five, BUZZ, and so on."
The faster you go, the more likely it is that someone will goof and get a point.
Examples of other numbers you can decide to NOT say:
Odd numbers
Numbers that have a "1" in them
Numbers that have a "2" in them
Etc.
Multiples of 3
Multiples of 4
Multiples of 5