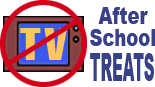 Math: Story Problems
Clue Words
Today's Snack: Do you have a sore foot and are clueless how to fix it? Well, here's a clue - eat cherries! They are nature's anti-inflammatory agent. That means that when your body hurts because something is inflamed (red, swollen, painful, "hot"), there are chemicals in cherries that can relieve those symptoms. See? Life IS a bowl of cherries! So have a bowl - be sure to spit out the pits - and enjoy some canned cherry juice, too!
--------------------
Supplies:
Print out this page, or project it on a big screen
Math textbook(s) with story problems
No. 2 pencil with eraser
Scratch paper
            A detective looks for "clues" in a crime scene. You can do the same thing - look for "clues" - when trying to solve a math story problem.
            There are usually one or more "clue words" in a story problem which guide you on whether you need to add, subtract, multiply, or divide in order to find the correct solution.
            Take a look at these four lists of clue words, and then open up your math textbook, find several story problems, and lightly circle with a pencil any of these clue words that you see. Then, on the scratch paper, solve the problem.
            Go over your results with an adult or other student, and once you are sure you got 100%, then erase your pencil marks. That's a "clue" that goes for anything in life - if you make a mess (pencil marks), clean it up (erase them!).
ADDITION CLUE WORDS
add
sum
total
plus
in all
both
together
increased by
altogether
combined
SUBTRACTION CLUE WORDS
subtract
difference
take away
less than
are not
remain
decreased by
have left
are left
change (coins, money)
more
fewer
MULTIPLICATION CLUE WORDS
times
product of
multiplied by
by (height, width, depth)
of
DIVISION CLUE WORDS
quotient of
divided by
half (or a fraction)
split
separated
cut up
parts
shared equally
(division and subtraction clue words are similar; division is needed if you know the total, but are asked to tell the size or number of "one" or "each")