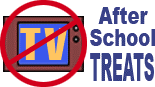 Properties & Orders:
The Order in Math -- Nine-Digit Cool!
            Today's Snack: Order is important in math. It's also important in cooking. Here's an example: break up a piece of angel food cake into small chunks. Put half of them at the bottom of a small glass - a parfait glass if you have one. Then scoop a container of pudding on top. Then put the rest of the cake chunks on top of that. Last, put a few slices of strawberries on top of the cake. Look at your treat from the side. Can you see the order? Makes it fun to eat! Wash it down with a nice glass of milk.
--------------------
Supplies:
Scratch paper and pencil
On another sheet of paper, do this multiplication problem and see the amazing order of mathematics. The answer is below, but don't peek!!!
                         111,111,111
                     X 111,111,111
(Answer: 123,456,789)