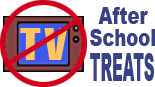 Geometry:
20 Triangles
Today's Snack: Warm up two tortillas in the oven. Sprinkle the center of one of them with cheese and maybe a little salsa if you like it. Place the other one on top, like a sandwich. Now cut into six or eight little triangles. It's a quesadilla - since "quesa" is Spanish for "cheese." Wash it down with a glass of orange milk - just pour a little orange juice into a glass of cold milk, and stir quickly with a spoon
--------------------
Supplies:
Compass | ruler | paper | pencil
            With the compass, "loaded" with a pencil, draw a big circle on your piece of paper.
            Now make six dots, spaced fairly equally, around the circle.
            Your problem is to draw TWENTY different triangles in that circle, using the points as the corners of each triangle. Use the ruler and the pencil. Can you do it? Of course you can!